Temporary Contact Zone / Tilapäinen Yhteysalue
Rauma, FI
July 2018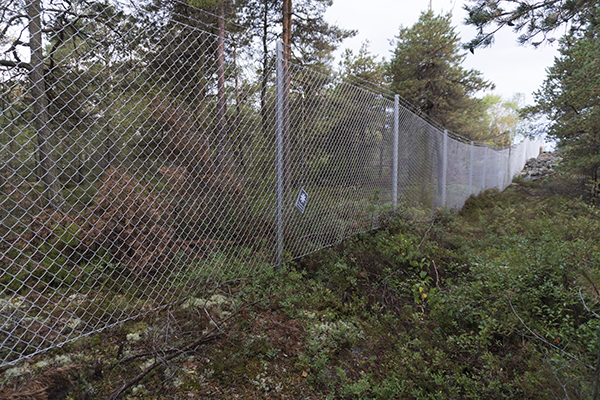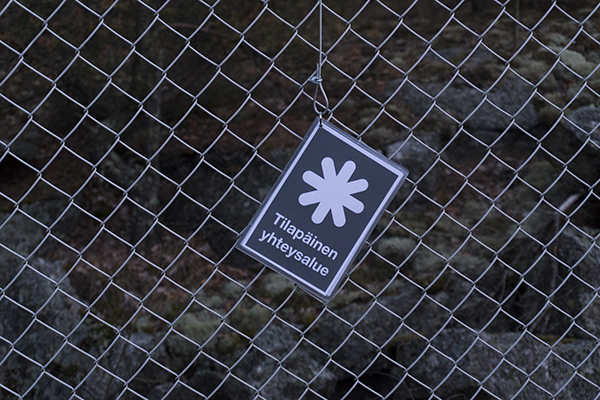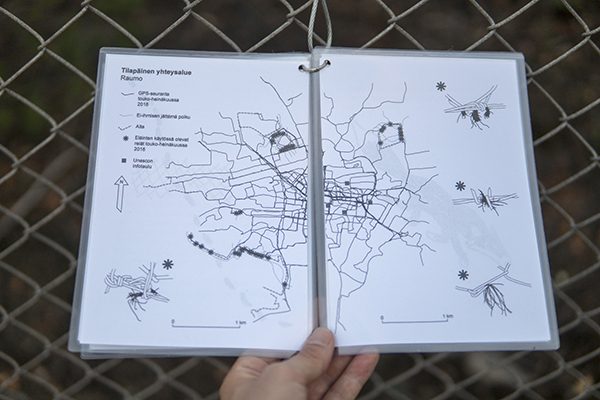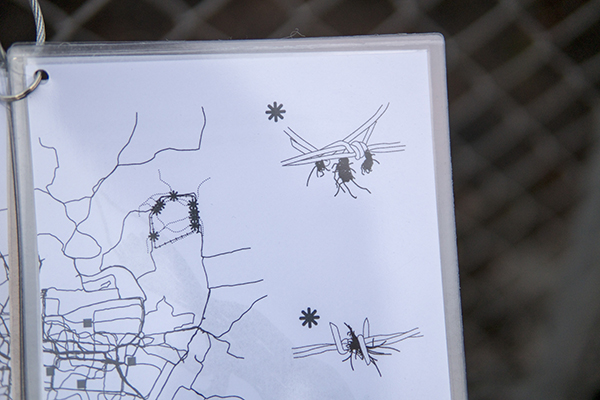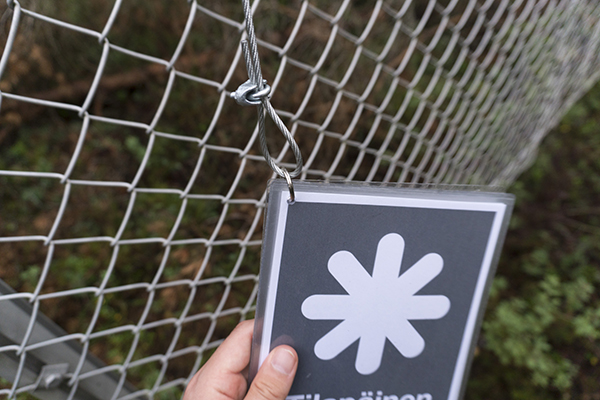 SV
Utomhus-fanzin + film.
En text- och illustrationsbaserad berättelse om händelser på specifika platser nattetid i den gamla sjöfartstaden Rauma. Arbetet utgår från platser som människor och andra djur tillsammans skapat på tvärs med mänskliga gränsdragningar.
Berättelsen presenterades som ett utomhus-fanzin (PDF). Det installerades under en utställningsperiod sommaren 2018 på flera offentliga platser i stadens periferi, i anslutning till hål och luckor i större stängsel, där jag kunnat se stigar skapade av djur och spår av päls. Filmen kunde nås genom en QR-kod inuti fanzinet.
Filmen visar när jag försöker ta mig in på stängda områden i Rauma genom existerande hål och luckor i större stängsel. Aktionerna, tillsammans med Gps-spårning, skapar en tidsspecifik karta över alla vid det tillfället existerande hål i Rauma som jag klarar att komma igenom. Kartan finns med i det tillhörande utomhus-fanzinet som installerades på platserna.
Projektet genomfördes med stöd av Nordic Culture Point och Kulturfonden för Sverige och Finland.
ENG

Outdoor fanzine + film.
A text and illustration based story about events at specific sites in the old port city Rauma at night time. The work relates to places that humans and other animals had created commonly, across human borders.
The story was presented as an outdoor fanzine (PDF). It was installed, during an exhibition period in summer 2018, at several public locations of Rauma's periphery, in connection to holes and leakages in larger fences, where I could see paths shaped by animals and traces of fur. The film could be reached via a QR code inside of the fanzine.
The film shows me trying to enter different closed sites in Rauma through existing holes and leakages in larger fences. The actions, together with Gps-tracking, shapes a time-specific map of all, at that time, existing holes in the Rauma area that I am able to move my body through. The map was featured in the outdoor fanzine that was installed on site.
The project was done with support from Nordic Culture Point and the Swedish-Finnish Cultural Foundation.